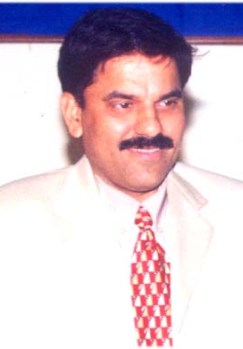 Addressing a huge election rally over 50000 strong Panthers in Ramnagar where JKNPP Chairman Shri Harsh Dev Singh, MLA, a three times winner is contesting Assembly election, Prof.Bhim Singh, Chief Patron of J&K National Panthers Party declared that this election is going to be a battle of Mahabharata (yudh) where the Panthers like Pandavas are in minority and Kaurvas (Rulers) are holding power, wealth and authority. He declared his mission Haq-va-Insaaf accomplished when he can see thousands and thousands of Panthers activists led by Shri Harsh Dev Singh in front of him ready to participate in this Mahabharata, the battle for justice and equity. He declared by holding hand of Shri Harsh Dev Singh in front of the mighty thousands that, "Panthers Party presented Shri Harsh Dev Singh as MLA three times but this time I am presenting him as next Chief Minister from Jammu Dogra Pahari Pradesh." Prof.Bhim Singh said that people wanted a change in Delhi they voted out Congress forever. Now the people of J&K want change and shall throw out all corrupt, communal, criminal and authoritarian forces led by Congress, NC, PDP as well as BJP.  Prof.Bhim Singh said Panthers Party was born in Ramnagar Tehsil, is birthplace, District Udhampur 32 years back. Today this seedling has gone as tree loaded with the tones of fruits.
            Shri Harsh Dev Singh, MLA, Chairman-JKNPP who is contesting this election against a BJP converted Congressman and other insignificant candidates announced that he shall develop entire Jammu Dogra Pahari Pradesh as he has done in Ramnagar. He said Ramnagar has developed 80% infrastructure in the projects of drinking water, power sector, tourism, agriculture, roads and bridges and above all. He was the only minister in the history of J&K who appointed 35000 ReT teachers as permanent teachers (2003 to 2005) which nobody could do. He said that he has made Ramnagar Constituency as a model constituency in the country. The day he shall get an opportunity to serve the people of the state he shall convert every constituency as a model constituency.
A senior Supreme Court Advocate and social activist of international fame, Mrs. Jay Mala congratulated the voters of Ramnagar constituency to elect Shri Harsh Dev Singh three times and hoped that Shri Harsh Dev Singh shall create a national history by winning fourth time which will be a golden era not for Ramnagar only but for the entire state.
Shri Balwant Singh Mankotia, MLA, President-JKNPP is contesting from Udhampur constituency made a strong appeal to the voters and declared that Udhampur shall win all the three Assembly seats with 80% lead all over.
Prof.Bhim Singh, Shri Balwant Singh Mankotia, Mrs. Jay Mala also addressed a rally in Chenani Assembly constituency, a historical town where 56 generations ruled since Mahabharata. Shri Dhani Ram Atri, State Secretary of the party is contesting from this reserved seat.